I am planning to take my daughter to the salon for a haircut. It's unbelievable how fast her hair grows! I cut her bangs myself from time to time but now she obviously needs a proper trim.
She does not want her hair too short so I was looking online for kids' haircuts and girls' haircuts that would be suitable for her taste and the cold December weather. One exciting thing about little girls is that there is so much you can do with their hair. Browse my own compilation of little girls' haircuts and you just might find something that perfectly fits the personality of your precious little princess.
My daughter's hair is straight but a little wavy – something she takes after me, actually. The length has gone a little beyond the shoulders and the original layers from her last haircut are no longer defined. Her bangs are now almost to her eyes. I want something comfortable and fresh looking so I looked for little girls haircuts that keeps away the hair from the face, are easy to put in a ponytail should it get too hot, and which would look great when worn with headbands and hair accessories.
Here are some pictures of kids' haircuts I found that might certainly "cut it":
Source: www.hairfinder.com
This girls' haircut is short and refreshing to look at. Done by Carol Bruguera, it is exactly the kind of cut that both little girls and their mothers would like. It carries just the right touch of stylishness without sacrificing the child's comfort. Maybe I will ask the stylist to copy it!
Source: www.bethanykayhair.com
This is more similar to my daughter's usual cut. Simple layered tresses with the traditional straight bangs. It looks clean, simple, and very playful. We may also have it cut a little longer.
The following pictures of kids' haircuts are longer versions of the basic bob. They look great for school children who love to play and have fun. Bobs are easy to manage and they can work on most hair textures from straight to soft wavy to corkscrew curly: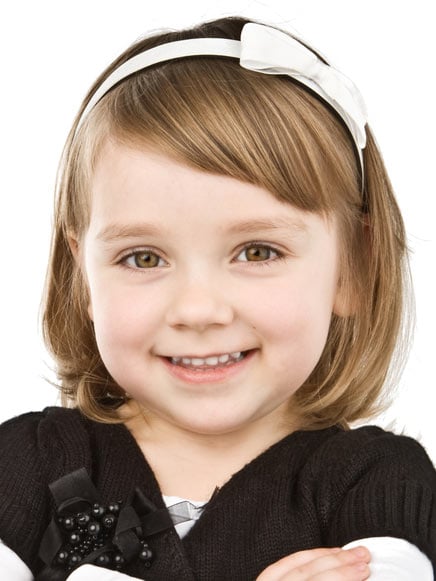 Source: kids-hairstyles.com


Source: kids-hairstyles.com

This one (above) would be perfect if you are looking for curly or wavy little girls' haircuts. Medium-length bobs (below) without the bangs such as the following are absolutely charming. They can be pulled up in a ponytail during playtime and be comfortable enough to wear hanging down:
Source: www.hair.becomegorgeous.com


Source: www.kids-hairstyles.com

Medium-length bobs with side-swept bangs are also popular girls' haircuts.:
But of course, short bobs will always be adorable little girls' haircuts such as we have seen on celebrity children like Suri Cruise and Leni Klum:
Source: www.guestofaguest.com


Source: www.zimbio.com
A lot of children's stylists in Manila are pretty talented not only in doing all kinds of kids haircuts but in keeping our young ones calm and still while having their haircut. Some salons that accommodate kids include Kid's Hair Salon and Bench Fix - both have outlets in major malls in Manila like Trinoma, SM Malls, Robinson's Galleria, Market! Market!, and Rustan's Makati. Emphasis Salon at the Peninsula Hotel is also recommended. If you liked any of the pictures of kids' haircuts posted here, go ahead and print it and show the picture to your stylist! :)